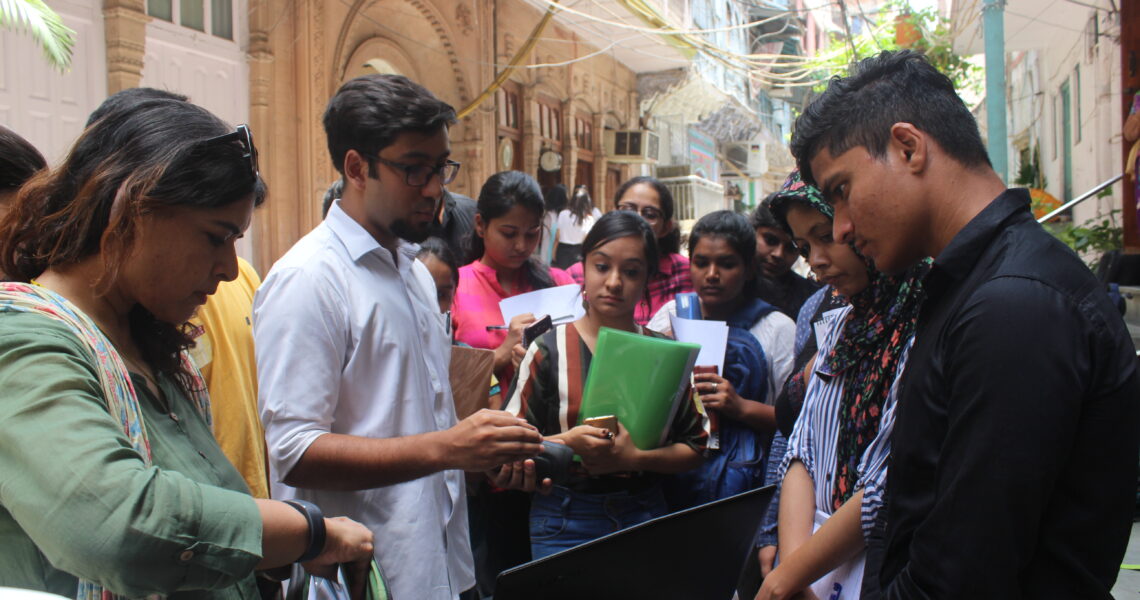 ONE MORE STOP IN MY JOURNEY WITH ATA #JUGAADOPOLIS2
July 16, 2019
By Ashim Chakrabarty
I had started my architecture career as in my internship and work from Aishwarya Tipnis Architects and I still remember back from those days, working at A.T.A has always been an experience worth sharing. From 2011 I have known M/s Aishwarya Tipnis ma'am and she has always been more than just my boss but a friend, a mentor.
When I was called upon to be a part of Jugadopolis 2 and to play the role of not just a coordinator but a mentor teaching students of Architecture, new media and Architecture through the camera lens, I was astonished. As I said earlier working with A.T.A has always been a memory to cherish and I was more than excited that not only will I get to teach students of Architecture, along with Tipnis ma'am but also I would get to learn something new from the upcoming experience.
I have had experiences with teaching kids earlier as well but every experience is different and welcoming. Initially all thee mentors and staff had a meeting at A.T.A headquarters at Delhi where we planned out and discussed the workshop as a whole and event and activities were well laid out.
Day one of the workshop was to be held at Naughara area near Kinari Bazar Chandni Chowk and its architecture and people have always astonished me. On day 1 I reached the location a little earlier to experience the walk from the metro station to the location of meet up.
The students of Sunderdeep college of Architecture were eagerly waiting and seemed all excited and packed up with power to kick start the workshop. The workshop started with an introductory speech to the exercise by our curator, Aishwarya ma'am. The students definitely got a lot to learn about the seven cities of Delhi and the old Delhi havelis and the courtyard Architecture.
Aishwarya ma'am's talk was followed by Shilpa ma'am, a professor at Sunderdeep college. An amazing approach the workshop had was giving students a thought and idea about design thinking which is crucial to think about and apply right from the student life aiming towards thinking sustainability as well. The same was delivered by Hina ma'am. I gave the students an idea in which one could collate their ideas and display their final submittals in various ways other than a slide presentation but through oral history, story telling, short film, stop motion, character role play etc. A few examples of such videos were shown to the students after which we all headed towards the different havelis and their courtyards. Every courtyard was unique and had a different story to tell the user/viewer.
The students got to work and I helped them understand a few ways of video capturing through the smartphone camera. The students seemed eager to learn. I visited each haveli and was excited myself in visiting these jewels hidden in the heart of Chandni Chowk. Day two welcomed us with rain and visiting the narrow streets and galis were like discovering new experiences as we moved along to check out the different havelis and the progress of work. The third day was about collation of data and analyse the learning. We all met up at Sunderdeep college Ghaziabad where I assisted the students by teaching them the basics of using Adobe premier pro. The students were quick in grasping the software and they had to come up with final submissions the next day. The D day, the fourth day had a showcase of all the short films which were all done amazingly well by each and every student approached their submission in a very innovative way.
I indeed got to learn a lot from all the students and their questions and doubts which also gave me an opportunity to look at things differently. Also working under the guidance in the past were always a scope to learn something new everyday. But this time being a mentors and working along side with ma'am gave me an experience of how things seem from the other side of the table, teaching students, taking in responsibilities of the work and aim to be achieved and guiding others while equally learning something new every second. The workshop was indeed amazingly put up and definitely added a page of experiences up on my book of experiences in this life.