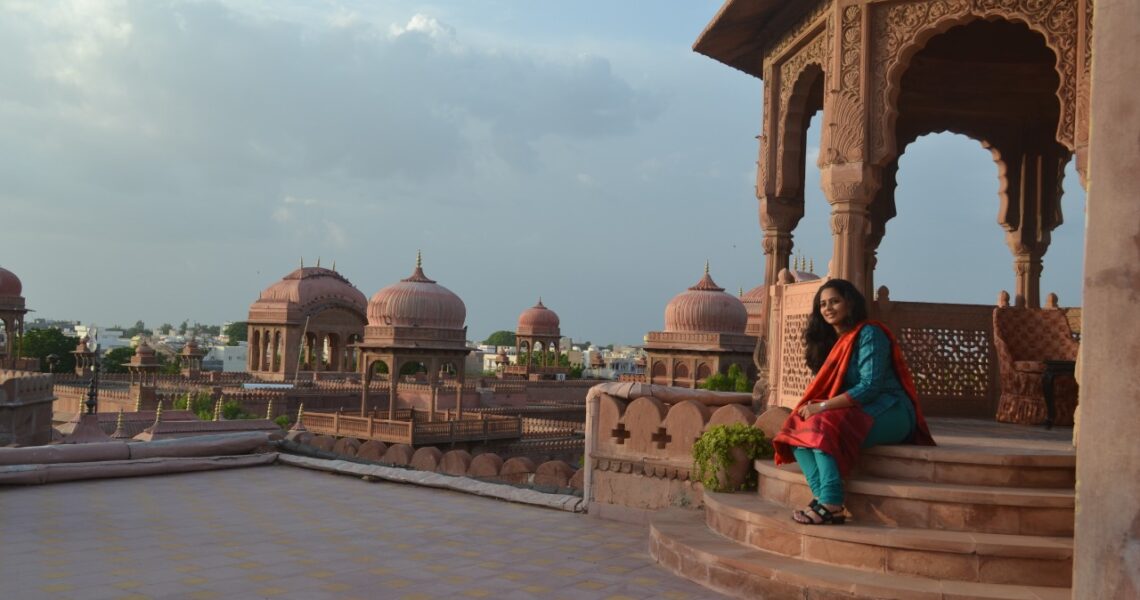 The City in Film
May 25, 2020
Aishwarya Tipnis, New Delhi
Covid 19 made sure we stayed home, it made sure all our travel plans for the summer got postponed if not shelved . A lot of us spent our time watching TV, Netflix and Amazon Prime, catching up on shows we hadn't seen or then seeing others once again. Very often, we want to visit places and relate to them because we had seen some movie shot there. As the Lockdown began in March 2020 for us in India, as did a fascinating discovery of these connections. As an heritage architect and urban conservationist , I am always fascinated by whats happening behind the scene, the stories and narratives that co-exist and evolve through the spatial design and scenography.
Discovery 1: Bollywood Masala Movies are a database too!
When we were working on the Laxmi Niwas Palace Complex in 2017 in Rajasthan, the staff at the hotel had told us about all the movies that were shot there. Our analysis of the historical evolution of the Palace wasn't adding up. It was showing us that something had been changed in the layout, but we couldn't figure out exactly what it was. Unfortunately the staff was all new so they didn't know and couldn't help us. But then one of our team members started searching for some of the Masala movies (the ones we would normally not even see) that were shot there. And while going through multiple videos and shots on Youtube, there it was, a scene from Kshatriya (1993), showed us exactly what we were looking for. It was a pleasant surprise for me when I re-watched Band Baaja Baraat(2010) during this Lockdown and found the last scene that I had assumed as the Ummaid Bhawan, Jodhpur was actually shot at the Lalgargh & Laxmi Niwas Palace. It was the beauty of the cinematography in making the building seem much more grander than it was!
Discovery 2: Architectural Research is a key to getting the context right
Sometimes, sets are created to depict a place. Often they are recreated getting every small detail perfect, at other times it is figment of someone's imagination. When I was an architecture student two movies were released around the same time that depicted Chandni Chowk, one that was the flamboyant Karan Johar version in Kabhi Khushi Kabhi Gam (2001) and the other Mira Nair's Monsoon Wedding (2001), that showed the crumbling old city, its traffic, its reality and was much more authentic. Everyone in architecture school agreed that Monsoon Wedding was much more relatable and added texture to the narrative. About 18 years later, my friend (co-founder of Jugaadopolis) and I, went to see a popular Bollywood drama in the cinema theater. She was telling me about how they had done so much research on getting the costumes and jewelry of the period right, but the architecture was disturbing me. The movie depicted a fictitious town in Pre-Partition Punjab now Pakistan in the 1940s, but the house was modeled on some Victor Horta version of Art Nouveau architecture, prevalent in Europe at the time. Having spent some time documenting and experiencing the architectural landscape of Colonial Punjab, the opulence of Victor Horta seemed totally out of place and inauthentic and for me it took away from the story. I saw another movie recently The Wedding Guest (2018) which was showing contemporary Pakistani Village but was actually shot in Punjab India1, the cinematography made all the difference.
Discovery 3: A movie is a dream you can live!
A few days ago, I watched one of my favourite movies from the Before Trilogy again. I love that all three of these movies are all about conversations and the city is a protagonist in each of them. There are such intrinsic connections between the narrative and its spatial depiction. To me, it seems like each movie depicts the state of Jesse and Celine's relationship, with Vienna in Before Sunrise, they were discovering each other and the city together. In Before Sunset, they were more confident, mature individuals and in a classical city of love, their individual identities as strong as that of the city, where Paris was a mere backdrop. And finally in Before Midnight, shot in a remote village in Southern Greece, the architecture was simple, human scale, weaving into the story gently, the focus on how the couple discovered the beauty of simplicity not just in their surroundings but in their now matured relationship.
This time as I watched Before Sunrise ( since I already knew the story), I was more fascinated by the story of the city, the places they were visiting, the tram they were on, the canal they walked past, the square where the coffee shop was, the cemetery and park they hung out in. Subsequently on a Google Hangout with my friend in Europe, who had lived in Vienna probably around the similar time when the movie was filmed.We revisited and rediscovered the city and all those places Jesse and Celine went to, digitally with Google Maps, Street View, 3D views and cloud photos. I have never been to Vienna, but through the movie and guided by my friend through technology, this digital experience made it seem quite real, it feels now as if I know the city and I can find my way around it. This inspired me to think of exploring how our personal digital experiences connect us and enrich our relationships in these tough times.
The Lockdown is also making me read so much theory of urbanism, I am making new connections with ideas of Imageability, Signification in the virtual world. This has brought on this exciting experiment of Jugaadopolis 4, where through a virtual workshop we would be looking at cities and their stories through films on streaming channels. Casual conversations always lead to some mind blowing collaborations and we've got a stellar lineup of Producers, Scenographers, Movie Makers and Architects coming to our online workshop as we discover the hidden relationships between the City and Film next week. For further details visit
As we learn to live in a new way post COVID 19, when digital is set to become more familiar than the physical, we will together discover our great shared heritage, places, stories, memories and narratives.